Lives remembered - Ken Montague
From David Wilson
This is a short version of my eulogy at his funeral.
During the occupation of Essex University in May '68, Ken was sure that Jean-Paul Sartre had sent the solidarity message that appeared on Ken's department's notice board. When Jean Luc Goddard persuaded students to burn a car in the quad for a film, Ken was critical because it was a constructed scene, but when a red flag was needed to raise on the flagpole above the library, he insisted I surrender the lining from my raincoat.
Two months earlier and working with comrades from the Chemistry department, we made paint bombs for the anti-Vietnam war demonstration at the US embassy. We ran down Oxford Street to the chant of 'Ho Ho Ho Chi Minh', the more perverse Essex comrades changing this to 'hot chocolate, drinking chocolate'.
We both joined the International Socialists at the same time and Ken remained a member of what became the Socialist Workers Party for the rest of his life. As the sole member of the anarcho-syndicalist wing my membership didn't last so long.
In 1976, we were both arrested on the same day on the Grunwick picket line. Ken was on the strike committee. He was always a more committed revolutionary. We shared an enthusiasm for William Morris and while still at Essex and with support from Pluto Press, we decided to collaborate on a book of his writings. Morris had been editor of 'Commonweal' in the 1880's, a Socialist Worker of its day, but with more words. We started research in the British Library under heaps of Morris' articles.
One day an old man with a white beard asked us what we were doing. 'We're researching a book about William Morris,' I said.
'How interesting,' he answered politely. 'What's it called?'
'The Political Writings of William Morris,' Ken said. 'Oh dear. My book with that title is coming out next year.'
He was the historian AL Morton, published by Laurence and Wishart.
That was the end of our book, but Ken continued with this project for the next 45 years and I hope his book on the early labour movement in the UK will be published soon.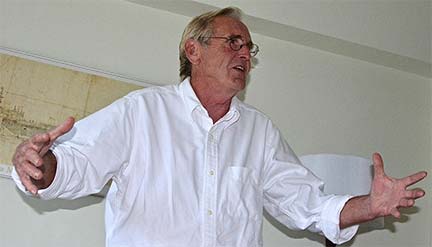 Ken wrote, campaigned, organised, but never with fist to the table and voice to the beams. I think Ken considered the world to be as reasonable as he was, or at least should be. He understood better than many on the Left, how social solidarity works at its best. Shortly before his death I visited him at his home near Brighton. 'Wislon,' he said, as we looked at the horses on the Downs above us, 'did you ever think we'd make it to our 70s?'
He was struggling to talk across the drugs, but did so magnifcently. Ken proved Mark Twain right who said: "The fear of death follows from the fear of life. A man who lives fully is prepared to die at any time."
Just before I left for home, I went to say goodbye. He seemed to be asleep, but as I touched his arm, he opened his eyes and thanked me for coming. His last words to me were, 'I am sorry'. What was he sorry about? That I had travelled to see my friend? No need for that. Sorry that he had had to go back to bed and couldn't speak with me further? No need to apologise. Sorry to be leaving this planet?
We all have our share of death, but Ken's affected me deeply. Not because we were in constant and regular contact—we weren't, but because he was a presence even when he wasn't present.
Ken spent his last years campaigning on climate change. He lived his life to the end by this Native American saying:
'Treat the earth well
It was not given to you by your parents
It was loaned to you by your children
We do not inherit the Earth from our ancestors
We borrow it from our children.'